Consumers lack understanding on how credit card interest is calculated
An ILCU survey in Jan 2022, on credit card spending finds consumers still lack understanding of how credit card interest is calculated
Over half of Irish consumers own a credit card
65% don't know what interest rate they pay
62% are convinced that the general public lacks an understanding of how credit card interest works
57% believe people in Ireland are now more dependent on credit cards due to the COVID pandemic
A national survey carried out by the Irish League of Credit Unions (ILCU) into the spending habits of credit card users has revealed that there has been no improvement in consumer awareness of interest rates or spending habits when compared to previous ILCU surveys conducted in 2020 and 2019. *
Interest rates
When asked about their awareness of the interest rate they paid on their credit card balance, 65% of respondents said that they did not know what interest rate they p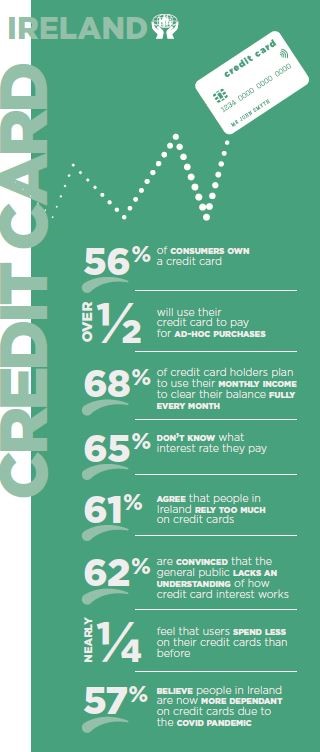 aid, an increase of 7% on the 2020 survey results.
Of those who responded that they are familiar with the credit card interest rate they pay, 26% think they pay between 11% and 17%, while 38% think they pay 18% to 24%. One fifth of these respondents believe they pay less than 5% in interest with over half believing they are paying less than 10%. Overall, the survey highlighted a significant lack of understanding on how interest is applied. Interest rates on credit cards typically range from 13% to 26%.**
36% of respondents incorrectly stated that they "don't pay any interest" if they cover the minimum balance due at the end of each month, with 31% correctly stating they knew that they paid interest on the full balance as well as interest on the outstanding balance from the date of the transaction.
Spending habits
Just over half of the Irish population own a credit card with 56% of these reporting they use it to buy ad hoc purchases each month. 14% said they have made a New Year's resolution to throw the card away while 10% said they would use it to fund a planned holiday.
68% of credit card holders plan to use their monthly income to clear their balance fully every month, while 15% said they would use their monthly income to make the monthly minimum repayment.
Relationships with credit cards
Over two thirds of the population (67%) believe credit card companies in Ireland don't do enough to explain how interest rates work, while 62% say that the general public lacks an understanding of how credit card interest works.
61% of adults agree that people in Ireland rely too much on credit cards for making purchases. 57% of respondents believe people in Ireland are now more dependent on credit cards due to the COVID pandemic with 22% feeling that users spend less on their credit cards than before the pandemic.
Commenting on the findings, ILCU Head of Communications, Paul Bailey said:
"This survey highlights that consumer awareness around credit card interest and how that interest is applied is still worryingly poor. With over half of consumers owning credit cards, it is concerning that there has been a decrease in peoples' awareness of the interest rate paid on credit cards since our last survey in 2020."
"With over two thirds of respondents believing that credit card companies aren't doing enough to clearly explain credit card terms and conditions to consumers, this is worrying given the high usage and over reliance on credit cards among the Irish population.
"I would encourage the public to arm themselves with as much information as possible when it comes to financial products and services to make sure they are making the right financial decisions to suit their individual circumstances. At the credit union, we aim to provide members with the necessary financial education to support them in managing their financial wellbeing".
An excellent resource for consumers to understand how credit cards work is the Competition and Consumer Protection Commission website https://www.ccpc.ie/  which offers very helpful and explanatory information on financial products.